Prospect Management System
McCambridge Sales Consultancy has been finding and making appointments for our clients for over 11 years.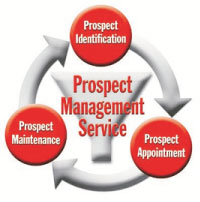 We use a proven methodology which enables us to: find the right contact for our clients, initiate contact, present the proposition, and - in an impressive 1 in 4 Board level discussions - we will arrange an appointment on behalf of our clients.
Our Prospect Management Service consists of three stages:
Prospect Identification

After a detailed briefing we will establish the type of organisations within defined market sectors, which meet your qualification requirements. We will identify the correct individual responsible for making a decision about the services you wish to sell and create a dedicated database of contacts for our customer.

Prospect Appointment

We research each target organisation to establish potential business drivers and confirm our contact information. We will then telephone each contact on our customer's behalf. We will outline the service(s) you wish to offer, describe it in the context of the target's business environment and ask for an appointment. If they agree, we will confirm the meeting in writing on your sales executive's behalf - by either letter or email - which we send to our customer to forward. A detailed Call Report supports each appointment made.

Prospect Maintenance

When a contact declines an appointment we ascertain why. Often it is a question of timing and we agree an acceptable follow-up time with the contact. These 'carried forward' activities are managed using our sales contact system, which is also used to provide a regular overview of progress and outcomes via a Contact Summary report, which we send to you monthly.
The aim of our service is to keep your name in front of the contact and begin to build a relationship with your prospective customers so that when the time is right your sales executive benefits from this initial telephone contact.
We use experienced IT services sales personnel who have the confidence to engage at the highest levels of the organisations we will be targeting for our customer. Each achieves one appointment for every four conversations they have with target contacts and typically it takes two man-days effort to make one appointment at this level.
Testimonials
We are delighted with the McCambridge Sales Consultancy Prospect Management Service. The Service matched our requirement to arrange appointments with Blue Chip organisations at the most senior level. Both the quality and level of the appointments exceeded all our expectations.